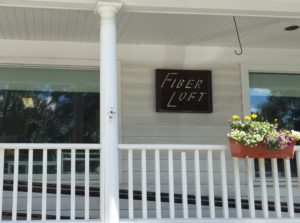 Our first guild meeting of the year is scheduled for Wednesday, September 5, 2018, at 7:00pm. Instead of gathering at The Little Flower Church, please join us at The Fiber Loft, 9 Massachusetts Ave, Harvard.
This is going to be a jam-packed meeting! We'll start the night with highlights of the upcomming year we have planned.  We are quite excited about our programs!
You ask for it, so we're bringing back charity knitting. Sheilah Johnson will go over the guidelines. We already have a decent collection of  yarns for us to knit or crochet with, but please feel free to donate more. Preferred yarns are acrylic, acrylic/wool blends and cottons. Yarns should be soft and machine washable/dryable. Simple patterns for hats, mittens, scarfs, premie and chemo caps, and blankets are needed as well.
Lynn Cooke is going to be presenting a NVKG scarf pattern that she has written just for us! If you would like to knit this, you can shop for yarn that night.
Suzanne Kelly, of the Fiber Loft, has arranged for a KFI (Knitting Fever Inc) trunk show featuring their latest yarns, including Noro.
As always, we encourage you to bring what you have been working on all summer for "show and tell".
New this year! Our revamped raffle is going to be revealed!
Please join us for a fun evening! You can browse the store, which will be open for shopping. Remember, all guild members receive a 10% discount on yarn at both the Fiber Loft and Island Yarn in Maynard.
Membership dues are $25 a year. Guests may attend the meeting for a $10 fee.
Our group welcomes knitters of all skill levels, including beginners. Do you only crochet? We welcome you as well. For more information, please contact Sheilah Johnson (978-833-7035) or Lynn Cooke (508-631-1972).